Quick links
2004-09-30
Amateur online media: Øyvind Strømmen follows up.
0 comments
Dagsavisen to print a weekly 16 page New York Times section. Commendable. I also recommend the weekly editions of the Daily Telegraph and the Guardian.
0 comments
Quote of the day: "It's time for the big TV debate in the US, Kerry's big chance to take back Bush's lead." - NRK evening news, always optimistic, 30/09/2004
0 comments
Obsidian Wings writes that a new bill underway in the American Congress will legalize torture by proxy.
0 comments
2004-09-27
David Brooks: Another triumph for the UN in Darfur. "The resolution passed, and it was a good day for alliance-nurturing and burden-sharing - for the burden of doing nothing was shared equally by all."
0 comments
2004-09-24
My server has been having a lot of problems lately - slow response, timeouts. My host, PHPWebhosting, has finally gotten around to moving my account to a different server. I'm not impressed with their level of service, but I'll see how the new server works out before I give them up. The change of server means that if you've added any comments in the last day they may have ended up on the wrong server. I'll move those comments manually to the new server as I see them, but this means that your comment may disappear for a while. I haven't deleted it, just not gotten around to copying it yet.
Please report any other problems you encounter (error messages, timeouts, slow response) to me at

.
0 comments
2004-09-20
P.J. O'Rourke: Why Americans hate foreign policy.
0 comments
2004-09-15
Has the Holocaust become a business exploited by Israel for political reasons? That seems to be the message of an NRK radio report, which claims that "the state of Israel has grown strong through an active use of this powerful symbol." Document.no has the transcript.
0 comments
2004-09-13
It's three years since 9/11, and Leif Knutsen is angry, "angry with .. intellectuals, editors, and journalists .. the Bush administration .. Kerry .. the world community .. the European press .. As far as I'm concerned, we've wasted two of the last three years, way too many lives, and uncounted billions of dollars not being serious about eradicating terrorism. And it pisses me off."
0 comments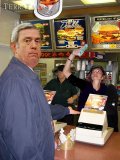 0 comments
2004-09-12
Three year old advise from Matt Welch that's worth reviving.
0 comments
2004-09-11
Two year old article on Statoil's close cooperation with dictatorships.
0 comments
2004-09-10
Neat: Even Aftenposten is linking to LGF on the forged Bush documents.
0 comments
2004-09-07
More calls for anti-Muslim terrorism: "Time to start demolishing the mosks, AT PRAYER TIME!!!"
0 comments
2004-09-05
There are now four people on record in this thread supporting terrorist-like methods and collective punishment against Chechens, even the use of nuclear weapons against Mecca. Not exaggerating. It's not just banning Islam any more, it's supporting the murder of Muslim civilians - merely for being Muslim. Three years ago I thought people were exaggerating the threat of Islamophobia. I was wrong.
0 comments
2004-09-04
Jan Haugland corrects Nettavisen, gets rude reply. Note to Ole Valaker: Be nice to your fact checkers.
0 comments
2004-09-02
"It is the soldier, not the reporter, who has given us the freedom of the press. It is the soldier, not the poet, who has given us freedom of speech. It is the soldier, not the agitator, who has given us the freedom to protest." Hm? Nope.
0 comments
2004-09-01
For coverage of the Republican convention in New York, see Reason's convention blog w/Matt Welch, Tim Blair and more.
0 comments